Everyone has had a barbecue, with varying success. For a successful BBQ catering as intended, the choice of meat is very important. Master Catering Pros Hillsboro can not only help you with this but also for the successful preparation of these products we have various tips and a suitable BBQ advice.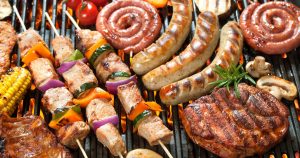 BBQ advise by caterers in Hillsboro for all types of barbecues
Barbecuing can roughly be done on two methods. The direct method is the most commonly used method: meat, fish or vegetable dishes are roasted on the barbecue for up to 25 minutes. In addition to the smoke barbecue, all types of barbecues are suitable for this.
The indirect method is mainly used for larger pieces of meat with a somewhat longer cooking time (more than 30 minutes). The barbecue lid is closed when preparing these larger pieces. The same applies to all types of barbecues: the heat source is directed to the sides of the barbecue. Below a short explanation for all types of barbecues, for a real craft result!
Barbecuing on a coal barbecue: The indirect method
The indirect method for a coal barbecue takes place by moving the coal to the sides. In the middle you place an oven dish, which you fill with water, wine, beer or orange juice, depending on your taste and the product to be prepared. To this moisture, you can add aromatic herbs and spices, think of thyme, rosemary, garlic or peppercorns. Place the meat over the baking dish and close the lid. The barbecue now works as an oven.
Barbecuing on a ceramic barbecue
For the indirect preparation, ceramic barbecues are very suitable. This kind of barbecues has taken off and with the successful use of the qualities of this barbecue (Big Green Egg, Grilldome) you can achieve a delicious result! Use an indirect grill stone (plate setter) for the indirect method. This plate distributes the heat of the coal in a sublime way and thereby creates an oven.
Barbecuing on a gas barbecue or electric barbecue
In order to apply the indirect method of preparation to a gas barbecue, it is advisable to only use the outer gas burners. Various attachments are available for electric barbecuing.

Company Details

Service Type
Provider Name
Master Catering Pros
,
4660-A NE Belknap Ct
,
Hillsboro
,
Oregon
-
97124
,
Operating Area
About
Master Catering Pros is one of the finest online service providers for catering requirements of the residents of Hillsboro Oregon.