The end of the year is gradually coming into view. It's time to roll up our sleeves and set up a staff party. Would you like to come across an original? Here 5 splashing ideas by Master Catering Pros Salem for a successful and tasty corporate party.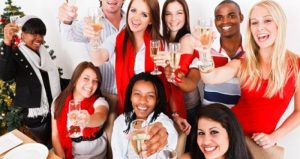 Sharing is caring
How can you promote the solidarity within your company better than with a delicious sharing dinner? Together with other table companions, the attendees share a culinary three-course menu consisting of various small dishes, such as Caesar salad with confit duck and Bleu d'Auvergne, risotto with lime, veal meatballs with truffle gravy and Parmesan and mousse of chocolate and crunchy crumble. Good for the team spirit!
Streetfood Buffet in Salem OR
Is there a rather loose, informal atmosphere within your company? Then lobster and caviar are not in place during your staff party. Keep it simple! Go for street food ambiance with delicious (inter) national street food dishes and bar tables. How about tacos filled with corn, chicken and a salsa of tomato, red onion and coriander, a pita bread with homemade "pulled pork", coleslaw and spicy barbecue sauce or ceviche of salmon with red onion, lime, and rettich?
Live Cooking
Chefs who prepare live and à la minute culinary delights for your guests, it is a unique experience for all senses! In addition, the chefs can explain the dishes on the spot. So see, smell, taste and know as a guest exactly what you have eaten. Enjoy!
Winter barbecue in Salem OR
Nothing more fun than an atmospheric winter barbecue in the open air with warm seasonal vegetables and a delicious piece of steak, game or cod. In combination with a heated party tent, fire pits, fleece blankets, the right decoration, mood lighting, a delicious bag of pumpkin soup, fresh mulled wine and chocolate milk, the party is guaranteed!
Theme event
A staff party in theme, that is original and fun at the same time! From a black & white party and a masked ball to a Halloween and Best of Belgium Party, everything is possible, as long as the complete picture – going from food, drinks, outfits, decor, and music – is true!

Company Details

Service Type
Provider Name
Master Catering Pros
,
1115/8 Madison Street NE
,
Salem
,
Oregon
-
97301
,
Operating Area
About
Master Catering Pros is one of the finest online service providers for catering requirements of the residents of Salem Oregon.